Somedays as a mother of three nothing seems greatly desired than to just Relax. I know it sounds really simple, but try relaxing with three kids who are all in need of something every second. I mean it is hard to even go to the bathroom alone sometimes in my house. So the other day when my fiancee asked "What is your fantasy", he was shocked at my answer. I said as quickly as he asked the question, " To relax. To be able to just sit still and do nothing and not be bothered." Not to say that he was heart broken is an understatement and I was sure he was going to be mad at me for taht answer. That is until the next evening when the kids went to bed and he called me into the bathroom. I was so surprised to see a bubble bath and candles - the whole nine yards.
Now I know so many of you are jealous right now ( Okay so maybe some of you are as lucky as I am) but it can be just as easy for your guy to do this too. He just needs to visit one site -
EdenFantasys
. Now EdenFantasys has something for any adult from the relaxation products to the sensual to even well, the kinky.
They have an assortment of candles. One of the ones I really have thought about getting is the
Bluecorn Naturals
Beeswax candle in a tin. I so want to try the Eucalyptus one.
They also have tons of bath items to make that soak in the tub that much more enjoyable. They have bath gels and lotions and bubble bath available like the
Chemistry bubble bath set
shown below.
I am planning on getting this since it has a cute stand and comes in four wonderful scents - relaxing lavender, romantic rose, stimulating lemon mint, and sensual pomegranate. That just sounds like a great selection to choose from and all for just $14.99. They even have rose petal soap flakes for that relaxing bath we all need.
Now after you add the sweet smelling bubble bath or soap flakes and use the amazing bath gel, how could you not be relaxed. I must say
EdenFantasys
is definitely your one stop location for a relaxing or sensual night. So go check it out and purchase everything you need for your fantasy whatever it may be. I mean after all ...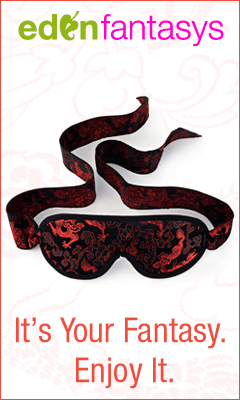 * I will receive a gift card for the above post. The above opinion though is completely honest and completely my own.